Range-extenders are the future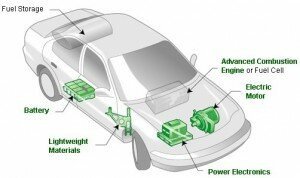 Range Extender for Car

- 1 MovEnergy 45KWH Generator
- 1 Lithium Battery 10KW
- 1 Electric Motor 45KW
- 1 Fuel tank 10 L Range 1000 km
- 1 water tank 10 L
- 1 Power Electronic
Complete powertrain is about
190 kg for 1000 km Range
costs only 3 cents per kwh
excess combustion air
*complete oxidation combustor
Micro Turbine Range Extender Engine movenergy 25/65kWh
A couple of weeks back I went up to Wellingborough to visit former Cosworth F1 engine builder Dick Langford and his partner Chris Delaney, who have come up with a very interesting solution to 'range-extending' an electric vehicle.
Delaney was always intrigued by the gas turbine Rover-BRM racing car, which competed in the Le Mans 24 Hours race in the 1960s [editor's note: Jaguar also tried this idea recently with the C-X75 concept], and with the rise in popularity of electric vehicles in recent years, he thought that a small turbine could be a reliable solution to generating electricity to extend the driving range.
"We built a hybrid electric car with plug-in option, regenerative braking and turbine range extender, to provide flexibility and overcome the anxiety associated with the use of 100% pure electric cars to find the next charging point," said Delaney, sitting in the Langford offices, which are still used for tuning Cosworth race engines for customers. It's a typical old school British engineering firm; lots of older, trusted employees in lab coats, but there's some very innovative thinking going on here.
This concept car," Delaney continues, "is called the 'Whisper'. It is fitted with a micro-turbine range extender and has many benefits including multi-fuel capability; I mean it can run on diesel, biodiesel, gas or methanol. The advantages are that it has low emissions – it's Euro 5 and 6 compliant – and it has reliability, low maintenance, fuel efficiency and smooth operation."
A turbine needs no oil, no radiator and maintenance is only required after every 8,000 hours of operation – if you used the car for two hours every single day, the turbine would need maintenance once every ten years. As a power unit to drive the wheels of a car its problems are throttle lag and fuel consumption, but these aren't an issue when the turbine is very small and is only being used to recharge the battery.
The Whisper [main pic] looks like an ordinary Ford S-MAX family car. That is, until you lift the bonnet. Within the engine bay, filled with boxes and cowlings, the tiny turbine sits at the front, well shrouded and sound-proofed.
We go out for a drive, Langford at the wheel on the semi rural B roads around the Northamptonshire town. When the battery reaches its lower limit, you hear the turbine beginning to spin up. It sounds like a jet engine on an aeroplane starting up on the tarmac, albeit much quieter. On the dashboard is a display to monitor the turbine speed and it soon reaches 90,000 rpm, which is the optimum speed.
James with Whisper creator Dick Langford
"We could drive to Germany like this," says Langford breezily. It's a good point. With over 100 mpg from the turbine, range anxiety is totally non-existent with this vehicle. You really do feel we could drive to Germany, it's just that I have dinner plans tonight.
"In the aircraft industry, internal combustion engines were superceded by turbines, so why not in the car industry, with EVs and turbine range extenders?" said Delaney from the back seat. Turbines are far more efficient than IC engines, with 70% efficiency, although the tiny Capstone C30 turbine is currently at 30% efficiency.
For the moment the problem is the cost of the turbine, from Capstone Turbine Corporation. It's around £20,000. With the opportunity to mass-produce the technology, perhaps in collaboration with an OEM, the target is to get the cost of the turbine down to £1,000 per unit. The Whisper is a proof of concept vehicle, aimed at catching the eye of investors or manufacturers.
One interesting additional benefit of having a turbine generating 30kW in the car is that if you are in a remote area it can be used as a generator for other appliances. This could be useful for crash tenders, or anyone needing power. It could even work for people with remote cottages without electricity or in the event of a power failure at home, it could provide temporary juice for your house.
---
James has worked in Formula 1 for 22 years, writing for the Financial Times, as well as presenting and commentating for ESPN (USA), RAI TV (Italy) and Network 10 (Australia). He spent 12 years with ITV Sport, becoming lead commentator on Formula One in October 2001, following Murray Walker's retirement. His website, James Allen on F1 is one of the most prominent and respected voices on F1.